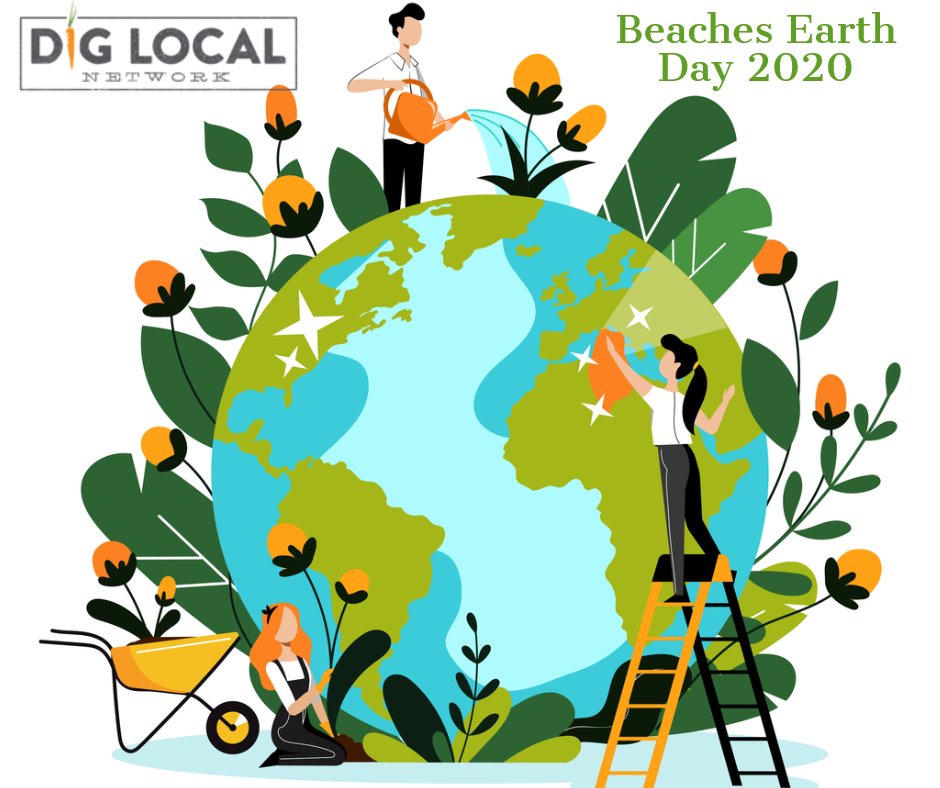 Making a Difference and Having Fun!
WHY VOLUNTEER OR INTERN?
Get involved in local climate action.
Engage and inspire other community members.
Be a part of something that will positively change our future.
Gain knowledge about your local Green businesses, education, outreach, and research.
Beaches Earth Day 2020 is an exciting community event offering educational information, activities for kids including an arts and crafts tent, live music and a focus on green businesses. Come, enjoy and support this fun environmental celebration for the whole family as a Beaches Earth Day Volunteer!
As a volunteer, your time and energy will go into making Beaches Earth Day 2020 a big success. You'll be energizing the Beaches community about the environment all while attending a fantastic event and even getting free food.
REGISTER BELOW TO VOLUNTEER NOW!!!
Volunteer Roles
Volunteer Coordination (leadership role)
Assist Engagement & Outreach Committee to help coordinate other volunteers. build or use your leadership skills!
Pre-Earth Day Event Planning
Pre-event volunteer coordination, promotion, hanging flyers, fundraising, exhibitor coordination, community outreach, social media, marketing
Event Set-up
Help Set up tables and chairs for exhibitors and vendors. 
Distribute supplies and other event information to exhibitors. 
Assist in showing exhibitors to their assigned tables/location. 
Includes some medium weightlifting of tables/chairs and boxed items. 
7 AM – 10 AM 
Total 8 Volunteers
Bike Valet Set-up
Place signs for the Bike Valet
Total 1 volunteer
9:30 AM-10 AM
Bike Valet
Help Earth Day attendees find parking for their bike. Watch the bikes in the "bike corral."
Rotation – One volunteer every two hours
10 AM- 4PM
Total 3 volunteers


Bike Valet Clean-up
Remove and pick up the signs for the Bike Valet
Total 1 Volunteer
4 PM-4:30 PM           
Traffic Flow Attendants
Direct traffic to approved parking areas. 
2 Volunteers per 3 hours
Total 6 volunteers
9 AM- 4:30 PM
Presenter Logistics
Volunteers will serve as point person and escort speakers, presenters and panelists throughout the event, including:
Ensure stage and/or workshop tent is properly set and ready for presenters and attendees. 

Enough seats for expected attendees. 

Evaluation forms are ready. 

Correct signage outside tent & in stage area. 

Check name badges to verify participants have signed in.
2 volunteers per 3 hour shift
Total 3 Volunteers
 Greeters
The Volunteer Greeter is responsible for providing exemplary customer service to all that enter and attend the event. Attendees should be welcomed, offered program literature, site-specific information, and helped to find their way around. Excellent communication skills are needed when responding to vendor and event attendees' questions.
1 volunteer per shift
9:30 AM – noon
10 AM- 4:30 PM
Total 2 Volunteers
Kids Zone/Children's Garden
Volunteers will help staff the area and will guide the craft activities.
9:30 AM- 12:30 AM 2 volunteers
12:30 AM- 3:00 PM  2 volunteers
3 PM-5 PM  2 Volunteers
Resource Recovery Volunteers
To meet our goal to make this Beaches Earth Day event a "zero waste" event. Educate and direct event participants and exhibitors in the appropriate way to sort their garbage. Volunteers will be trained on what goes into the compost, recycle, and trash bins. This is a learning opportunity for all who attend and volunteer at the event!
The early shift will help set up the bins and assist exhibitors sort their garbage. At the end of the event, volunteers assist exhibitors and help measure our overall impact of our efforts – that is, measure what percentage of our waste was diverted from trash to recycling and composting facilities.
Volunteers may also assist with pulling full bags and transporting them to the appropriate Dumpster for recovery. Some heavy lifting may be involved (volunteers can opt out and leave this duty for those who can!)
Monitor the trash, recycling, stations. Help attendees put the right item in the right container. Assist with pulling full bags and transporting them to the appropriate dumpster for recovery.  Some heavy lifting may be involved.
8:30 Am- 10 AM 2 volunteers
10 AM- 2 PM  2 volunteers to monitor bins
2 PM-5 PM  3 Volunteers
Survey Collection
Interact with participants/attendees of Earth Day, requesting they fill out a survey to capture attendee feedback about the event.
1-2 volunteers per shift
10:30 AM – 1:30 PM
1:30 PM – 4:30 PM
Total 4 Volunteers

Event Break-down
Breakdown tables and chairs, placing in stacks for pick up. 
Assist exhibitors break down their exhibits and load their vehicles. 
Collect signs
Trash & Recycle Bins  
5:00 PM- 5:45 PM 
Total 6 volunteers      
Other
Is there something else you think we need that you can do? Let us know by emailing us at beachesearthday@gmail.com.