Update: April 6, 2020
UPDATE FOR DIG LOCAL NETWORK COVID-19 SAFET PROTOCOL & NEW GREEN MARKET LOCATION
COVID-19 SAFETY PROTOCOL FOR SHOPPERS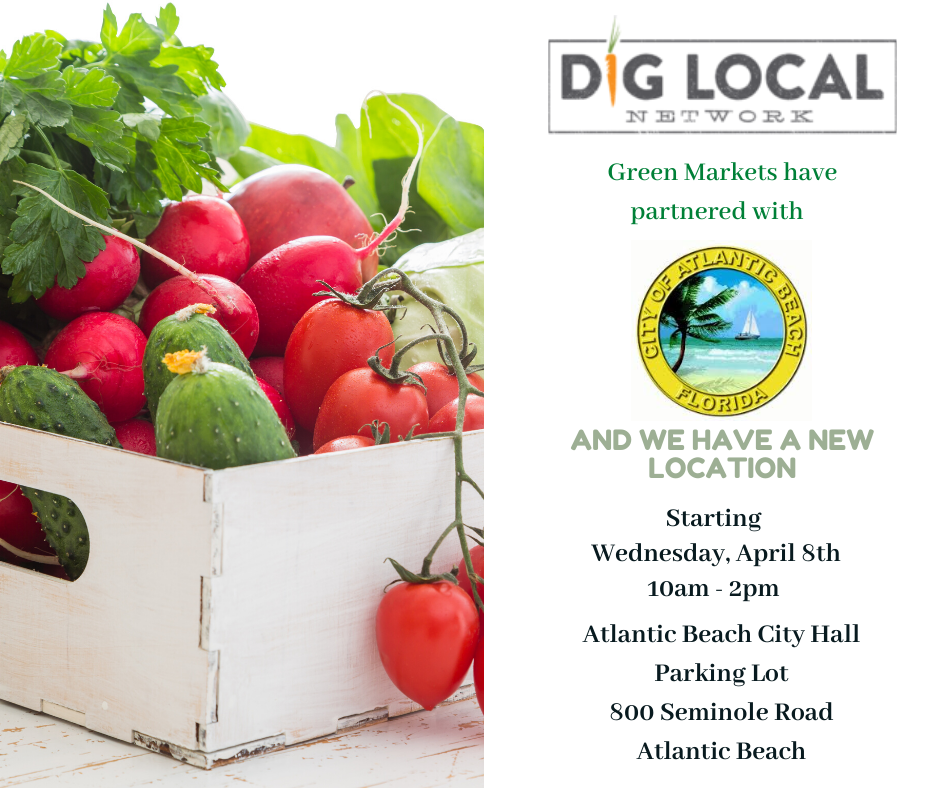 A message from Dig Local Network:
As an essential service, the Midweek & Beaches Green Markets will REMAIN OPEN as an option for shoppers to continue having access to fresh produce, wellness products and healthy foods in an open setting while maximizing social distancing.
Each day we face new challenges in the changing saga of the coronavirus outbreak and some of them require creative thinking in order to keep the market going. With this in mind, starting this Wednesday, April 8th.
We have a NEW LOCATION at;
The Atlantic Beach City Hall-Parking Lot at 800 Seminole Road Atlantic Beach, from 10am-2pm
We are changing the market layout to accommodate drive through traffic. We do this in order maintain a comfortable social distance between people and to offer those that need to minimize exposure an alternative way to shop at the market.
We are calling this the "The Great Experiment"! We ask for your patience and support. We are in this together!
Please follow the instructions of market staff directing traffic. We are expecting some foot traffic in the market and want to keep customers on foot safe from moving cars. If you are in your car, follow the signs and drive slowly.
The market's continuation of service will also minimize economic impacts to participating small farmers and producers, so they remain able to serve the market community in the months and years to come.
We are grateful for your continued support to our green market farmers and producers. They are working hard to provide you with high quality alternatives to traditional grocery store products in an environment that is in compliance with all state, county and city guidelines regarding the pandemic.
In order to keep lines low and the flow of traffic running smoothly we encourage you to contact vendors directly to place orders.
This will also help our vendors plan out how much product to bring to the market. There will soon be an option to order online directly from your favorite producers. Please continue to follow us on Facebook and our website for updates.