We offer three weekly opportunities for you to get produce and goods from local vendors.
The Beaches Green Market
Saturdays 2-5PM | Jarboe Park in Neptune Beach | Learn More »
The Midweek Market
Wednesdays 3-6PM | Bull Park in Atlantic Beach | Learn More »
It is our belief that a farmers' market has the potential to do great good for the community in more ways than one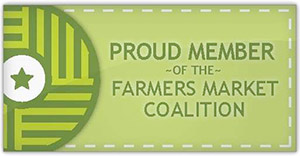 We believe farmers' markets are among the projects that provide access to good food and encourage healthier habits. These markets connect consumers with fresh, and more often than not organic, food that is free of the over-processing that plagues most products found in the average supermarket. Even the ability to purchase free-range eggs is a significant opportunity. Recent studies show that the nutritional value of free-range eggs versus caged eggs was greater. It's the small things that help make a difference.
According to the CDC, more than one-third of adults in the United States are obese. They also acknowledge that heart disease, stroke, type 2 diabetes and other serious medical conditions have been linked to obesity. In 2010, the CDC found the state of Florida to have an obesity rate of 26.6%, not far behind the nation's average. This trend is not terminal. Through proper nutrition and an active lifestyle, the obesity epidemic and slowly and surely be reversed.
Aside from the obvious benefit of access to good food, farmers' markets can encourage the surrounding residents to get outside and engage in a communal activity. These markets, with successful placement, even have the ability to contribute to local culture by providing an arena for local musicians and artisans. They also affect the surrounding economy by keeping consumer's dollars local.
The Beaches Green Market
Vendors at the Market sell a wide selection of in-season, local and organic produce, local all-natural meats, free-range eggs, cut flowers, locally roasted organic coffees, edible plants and trees, orchids, handcrafted teas, gluten-free and vegan foods, handcrafted cheeses, locally made desserts, freshly baked breads, homemade dog treats, local honey and other seasonal delights. Through the Beaches Green Market, community members can learn about seasonality and sustainable farming practices by getting to personally know the people who grow their food. The Market aims to empower through education and awareness, thus allowing people to make active decisions towards the betterment of their personal health, that of their families and the planet as a whole.
The Midweek Market
This market was originally started by Jeffrey Wight, a member of the Cultural Arts and Recreation Board in Atlantic Beach, Florida. In the summer of 2012, Jeff invited Dig Local to step in and run the market in his stead. Situated in the middle of several Atlantic Beach neighborhoods, this market is within easy biking or walking distance. The market itself is family friendly but even more so with the small playground next to the vendors' location in the green.
Current Vendors
Produce, Citrus, Herbs and Plants
Alvarez Farms
Cecil's Citrus
Charlie's Citrus
Williston Blueberry Farm
Cheese, Seafood and Meats
Augustine Crab Cake King
Five String Farm
All Natural Cosmetics and Skin Care
Produce Labeling
What those colors mean: