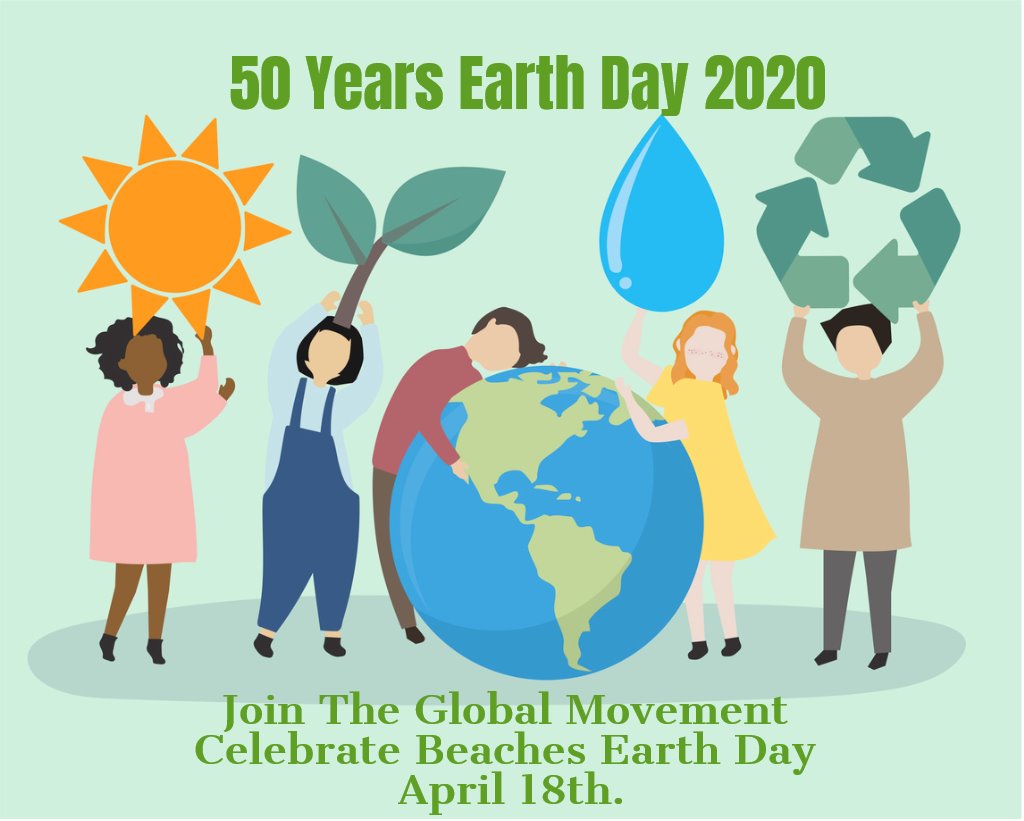 Contact JoAnn Wallace – beachesearthday@gmail.com
904-422-0261 (Cell)
JOIIN US FOR THE 2nd. ANNUAL BEACHES EARTH DAY 2020 EVENT
On Saturday, April 18th, from 10:00 a.m. to 5:00 p.m. at Jarboe Park, Neptune Beach, FL. The Event is Free for the Public.
The Earth Day 2020 theme: Climate Action
Climate change represents the biggest challenge to the future of humanity and the life-support systems that make our world habitable. Unless every country in the world steps up – and steps up with urgency and ambition – we are consigning current and future generations to a dangerous future. The April 18th Beaches Earth Day 2020 Event will provide a full day of educational Climate activities, workshops, Earth themed artists, music, yoga, a tree planting ceremony, and more. Guest speakers, and presentations will address climate concerns facing our local, state of Florida and beyond.
The event is hosted by Dig Local Network and we are inviting our local Businesses, Organizations and schools to partner and support Dig Local Network for this important event. Dig Local Network – Beaches Earth Day 2020 is pleased to announce that we have partnered with Earth Day Network advisory committee and believe that our local Earth Day 2020 event and campaigns will inspire a new generation of Jacksonville & Beach environmentalists towards climate action.
2020 Campaigns:
The Community can take part in the Great Local Cleanup, by joining in the worldwide campaign to remove billions of pieces of trash from neighborhoods, beaches, rivers, lakes, trails, and parks — reducing waste and plastic pollution, improving habitats, and preventing harm to wildlife and humans.
Earth Challenge 2020, the largest-ever global citizen science initiative, which will arm everyday individuals with the tools they need to report on the health and wellbeing of the environment, from water quality, to air quality, to the species around them.
Food prints for the Future, a collaboration with individuals, communities, and partners across all sectors to address one of the largest contributors to climate change facing us today: our food system
Artists for the Earth, a global campaign bringing artists from around the Jacksonville & Beaches area in every discipline, using the power of their art to express our common humanity.
There's so much our community can do to help protect, plant and prepare for Beaches Earth Day 2020, from joining the campaigns, sponsorships, or volunteering/partnering with us!
Earth Day 2020 is not a Day, it is a movement!
All monies raised will be used for local environmental, climate and species education. Beaches Earth Day 2020 Event will be an amazing demonstration of how the everyday decisions we make in life affect our environment. For more information, please visit https://diglocal.org/earth-day-2020/
So, the Countdown Is On!
JOIN BEACHES EARTH DAY FESTIVAL FOR THE 50TH ANNIVERSARY
"Empowering the Next Generation of Environmental Leaders"
We challenge all of Jacksonville and the Beaches to engage at every level of society over the next year and beyond. Our goal is to infuse people with a sense of purpose and belief in their ability to create meaningful change regardless of their race, creed, social status, or economic standing.
***