Artisans, Vendors and Exhibitors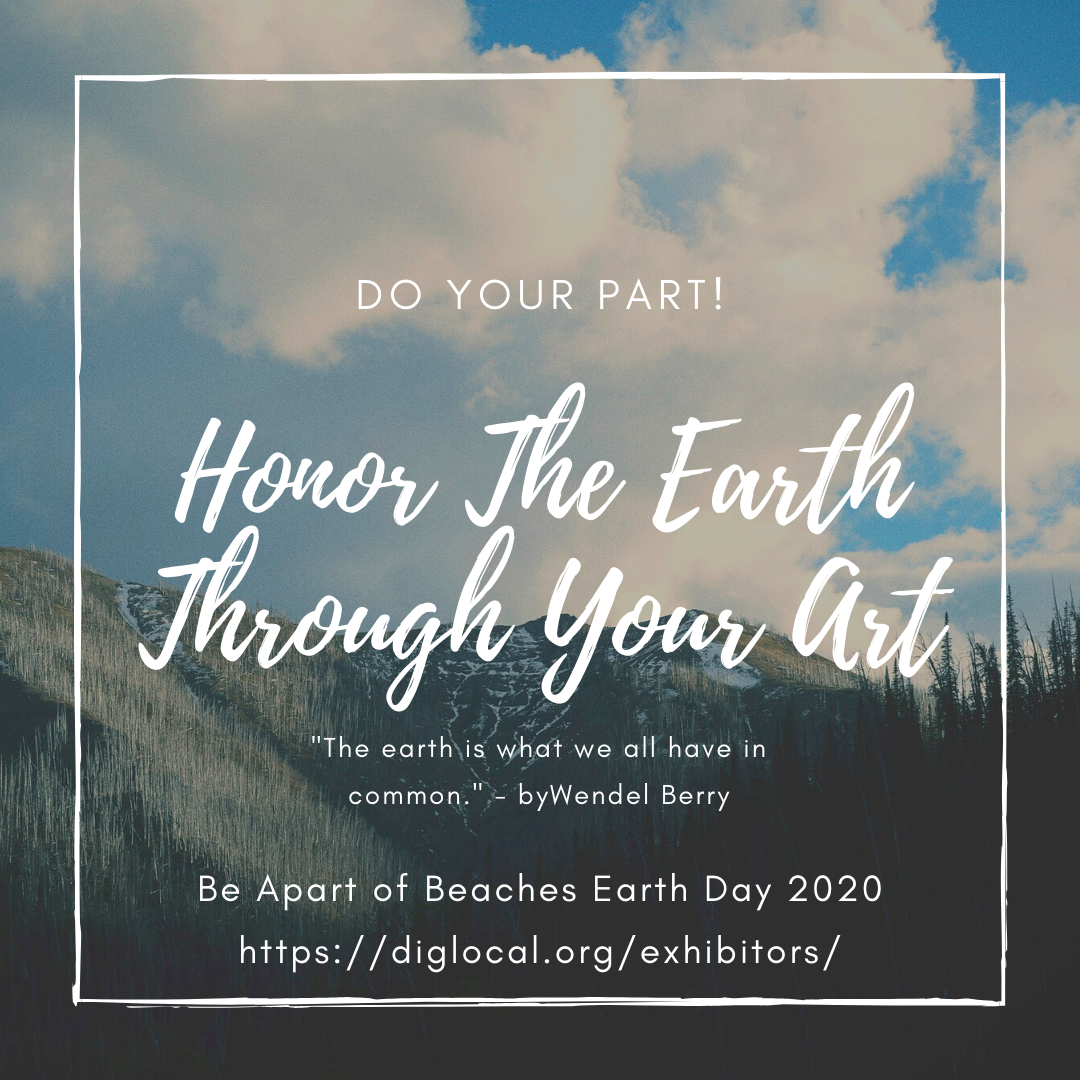 To register for a booth space:
CLICK HERE: Become A Vendor or Exhibitor
Vendors and organizations are invited to reserve booths highlighting information and activities consistent with the Earth Day mission during the festivities.
The goal of Beaches Earth Day 2020 event is to bring together members of the community to celebrate and to learn how to preserve and protect our beautiful planet and its inhabitants. Be a part of this important, history making event that has live music and food trucks along with artistic mediums of Visual Art, Jewelry and earth day exhibitors, Food Artists and more.
Artists for the Earth, whether food, film, music, planting, painting, etc. is aa way to connect with art organizations, businesses and other artists in order to engage the public with the critical concerns of the environment.
By supporting your community that art creates, Artists for the Earth will help build consensus, the will to effect change and the inspiration to act to protect the Earth. (Mediums:) Dance, Theatre, Film, Art Written Word Music, Photography, painting, fine crafts and more.
Booth spaces will be 10 ft x 10 ft.
Each booth must have a tent, table, and signage
Organizations or businesses will provide their own posters, tents, tablecloths, etc, as desired.
BOOTH INFORMATION (fees are waived for sponsors):
Earth Artists, Food Artisans, Businesses: Booth Fee – $40
2. Non-Profits: $25 (must provide copy of 501 © (3) or nonprofit certificate) If presenting to the public or hosting a workshop, contact JoAnn @ beachesearthday@gmail for information on a free booth
Please reserve today to confirm your space! Deadline is March 28, 2020
To register for a booth space:
CLICK HERE: Become A Vendor or Exhibitor
Your Beaches Earth Day 2020 registration is not complete until you pay your fees. Your application will be screened for approval. Once approved we will send you a link to pay your fees via PayPal to complete your registration.
To Pay Booth Space Fee: Log onto: https://diglocal.org/markets/vendor-resources-information/ Reserve Your Market Spot: Click Here  
IMPORTANT EVENT INFORMATION
Booth Registration:
A booth space reservation gets you one 10'x10′ designated area at Jarboe Park in Neptune Beach for Beaches Earth Day 2020. Please note that there is NO access to a power supply at the event.
Vendors are responsible for supplying their own event infrastructure including tent/canopy, tables, chairs, weights, displays, and an independent power source if you need one.
Once you've signed up:
You will receive an informational packet via email the week of the event which will include "day of event" logistics including loading / unloading procedures and times. Please be sure to include an email address that you check frequently when registering so you do not miss any announcements. Also, let us know how you want your booth name to appear in the online booth listing.
Keeping Earth Day "Green":
In keeping with a strong environmental commitment, the event will be zero waste and all registrants must indicate in their application what environmental educational message or product you will be promoting at the event. Beaches Earth Day 2020 Organizers reserve the right to disqualify vendor applications that do not have an environmental message to convey or product to sell. We require that all wastes (bags, to-go containers, cups, drinking straws, etc.) generated during the event must either be recyclable or compostable. Please note that for this event, containers made from polystyrene (such as Styrofoam) and polylactic acid (PLA) are not considered recyclable or compostable. No plastic water bottles or single-use plastic bags are allowed to be sold or given away at the event. If you have questions about how to make your booth waste free and/or how to locate compostable containers and bags please email us at info@diglocal.org.
We strongly encourage you to serve organic and/or locally sourced food (within 100 miles of Jacksonville). Please indicate what you will be providing in your application. Organizers reserve the right to disqualify vendor applications that do not meet this criteria.
Jarboe Park restrictions Alcohol or Smoking:
Jarboe Park is City of Neptune Beach property and we therefore need to adhere to their established park regulations. Alcohol is prohibited at this event except for that sold by the identified and permitted alcohol vendor. Smoking is not permitted.
If you have any questions regarding vending at this event please email info@diglocal.org
By reserving a booth, your organization is agreeing to the above policies.